Course Finder
If you have a strong interest or ability in economics, maths and statistics, this degree provides everything you need for a future career in the areas of financial economics, banking and finance. Recognised as one of the premier degrees in Ireland and internationally in these areas, it equips students with outstanding expertise in quantitative methods, analytical skills and a rigorous preparation in economics and finance. The competence in quantitative methods and analytical skills that the programme develops are valuable on their own in many careers and provide the essential background for learning Economics & Finance.
For more information regarding this course, please click
School of Business
First Year – Develop Your Knowledge
During the first year of this programme, you will develop your knowledge and understanding of core principles, concepts, methods and theories relevant to the study of Economics and Finance. The emphasis initially will be on quantitative methods
(Maths and Statistics) and Economics to build solid academic foundations on which competences in Business and Finance will be advanced throughout the programme.
Subjects:
Macroeconomics
Introduction to Finance
Business in Society
Business Analytics
Financial Accounting
Math Modelling
Linear Algebra
Advanced Calculus
Statistical Modelling
Analysis
Year 2 & Final Year – Apply This Knowledge
You will then learn to apply this knowledge to practical and important problems faced by businesses and policy makers in a broad range of settings in the financial industry.
In final year, depending on your area of interest you can specialise in the subject areas of Economics, Finance or Maths.
The Finance stream places emphasis on problems and applications relevant to the financial industry and corporate financial management. If you choose the Economics or Maths & Stats stream, the emphasis will be instead on different aspects of economic analysis and quantitative methods needed to support (as a consultant or an analyst) and undertake (as a manager or a policy-maker) decision-making in a corporate or policy-making setting.
Subjects:
Taxation
Probability Theory
Economics, Macro 1 & Micro 1
Financial Institution Management
Optimisation in Finance
Irish Economy
Advanced Corporate Finance
Analysis
Financial Mathematics
For detailed information on subject content click here.
Internship Programme
Our optional one-year Internship Programme places successful students with leading companies nationally and internationally. Students may also have the opportunity to work with a voluntary/not-for-profit organisation supported by a scholarship from the School of Business. All placements allow students the opportunity to enhance their business skills outside the classroom and helps inform future career decisions through real-world experience.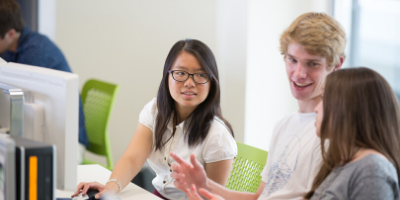 This highly regarded degree offers you exceptionally good prospects in banking and financial services. Future employment or study options may include:
Analytics or risk analysis
Stock brokering
Fund management
Investment banking
Insurance
Corporate finance
Economics
During your second year, we encourage you to pursue an international study experience for one semester at one of our exchange partner universities in Australia, Canada or Singapore.
"Looking back at my first year at UCD I am proud to say that I am a part of the Quinn family and even more proud to be a part of an elite and well-respected course. This programme has required me to go outside my comfort zone and push my boundaries which will be greatly beneficial when it comes to looking for employment after college. Anyone who has the slightest of interest in finance then the Economics & Finance programme offered by the Lochlann Quinn School of Business has been tailored to such perfection that you will never feel the need to second guess yourself."
Yash Aditya Goenka, BSc Economics & Finance, Year 1