Course Finder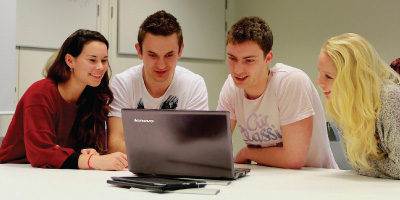 Graduates with training in Computer Science with Data Science work in fields such as:
Banking and Financial Services
Consultancy (e.g. Accenture, Deloitte, PwC)
Internet companies such as Google, PayPal and Facebook
Established ICT companies such as IBM, Microsoft and Intel
ICT Start-ups
Graduates can also pursue a range of MSc or PhD programmes such as the MSc Computer Science (Negotiated Learning) or the MSc Digital Forensics and Cybercrime Investigation.
Universities that students have visited to date include the University of Auckland, New Zealand, the University of California, Irvine, USA, and Fudan University, Shanghai, China.
"Growing up, I loved taking things apart, understanding how they worked and the challenge of putting them back together. Similarly, I enjoyed maths in school and thought computer science might give me an outlet to apply these problem-solving skills in college. The foundational modules offered in the first two years are invaluable to students who opt for the data science pathway. Today, a degree in data science provides endless career opportunities and studying at UCD makes it all the more enjoyable. UCD's elective modules provided me with a platform to extend my love for sport to an academic level by completing modules in exercise and performance. As a GAA scholar, UCD gave me the best opportunity to perform and succeed with access to world-class facilities and services."
Chloe Foxe, Graduate