Course Finder
Social Sciences students explore society and how people behave as individuals and in groups. With the four-year Social Sciences degree, you choose SBU3 and then select your preferred Two Subject Combination (TSC). Your subject choices are guaranteed. There are options to change subject choices at the end of first year if you wish. During your first year, you will gain a deep understanding of each subject you choose to study and develop real-world skills in research, communication and leadership. You will learn to analyse, criticise and challenge beliefs and assumptions - including your own. You will also have the option to apply for an internship, or study abroad for a year or a semester.
For more information regarding this course, please click
Central Office - College of Social Sciences and Law
Why do people behave the way they do? How do social, cultural, political and economic forces shape our lives and the world in which we live?
If these types of questions about society and social relationships spark your interest, prepare to be challenged and fascinated by studying social sciences in UCD. You will examine the nature of our society and the issues confronting humanity, including climate change, crime and violence, social and economic inequality, gender justice, sustainable cities, human development, economic growth and big data.
No Modules to display for this Course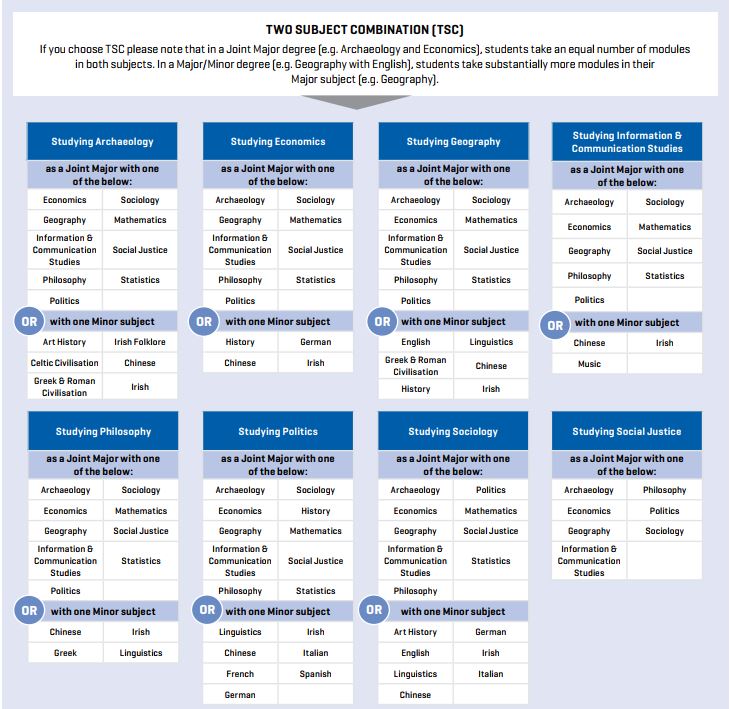 Social sciences graduates are valued by employers for their skills in research, leadership and communication. Graduates of UCD social sciences progress to work in government, NGOs, the media and businesses as economists, policymakers, environmentalists, activists, information managers, HR managers, entrepreneurs, journalists, statisticians, urban planners, archaeologists, librarians, secondary school teachers, social workers, researchers and many more professions across the public and private sectors. BSc Social Sciences students may undertake an internship for a semester in Year 3.
You may undertake a Master's related to a discipline you studied in your undergraduate degree, such as international relations, experimental archaeology or behavioural economics. A social sciences degree also allows you to progress to a range of interdisciplinary Master's degrees in fields such as public policy, cognitive science, criminology, human rights, geopolitics, development studies, equality studies, digital curation, urban environment, world heritage management and more. You may also choose to convert your undergraduate degree with a Master's in a new discipline such as Law, Business or Computer Science.
As Ireland's global university, we encourage our students to apply to study for a semester or a year abroad through UCD's extensive global network of partner universities. In our BSc four-year progamme, study abroad opportunities are integrated into the third year curriculum. All social sciences students can take language modules as electives in addition to their degree subjects through the UCD Applied Language Centre. Students who take social sciences subjects with a language minor will spend their third year abroad in a partner University