Course Finder
This degree is ideal for students who have an interest in chemistry and its applications in biology. Medicinal Chemistry & Chemical Biology are fields populated by chemists who have a good understanding of biology at the molecular level. They'll be of increasing importance for decades to come to address existing and emerging healthcare problems, e.g. cancer, AIDS, TB and avian flu. Chemical biologists and medicinal chemists will develop the next generation of medicines to solve such problems and will have an impact across a wide range of areas, including the development of environmentally friendly approaches to process chemistry.
Download the UCD Science Undergraduate Courses Entry 2023 Brochure (pdf)
For more information regarding this course, please click
School of Chemistry
This is a sample pathway for a degree in Medicinal Chemistry & Chemical Biology. Topics include metabolic biochemistry, reactivity of biomolecules, principles of pharmacology, chemical biology of natural products and macromolecules.
First Year
Chemistry • Mathematics • Biology • Optional Science modules • Elective module
Second Year
Medicinal Chemistry & Chemical Biology • + 1 other Science subject • Elective modules
Third Year
Medicinal Chemistry & Chemical Biology • Elective modules
Fourth Year
Medicinal Chemistry & Chemical Biology (includes a research project)
Timetables & Assessment
Each student will have their own timetable based on their individual module selection. This is a full-time course and classes may include lectures, practicals and tutorials, depending on the subjects. Students will also be expected to study independently (autonomous student learning). Assessment varies with each module but may comprise continuous assessment of practicals, written exams and online learning activities.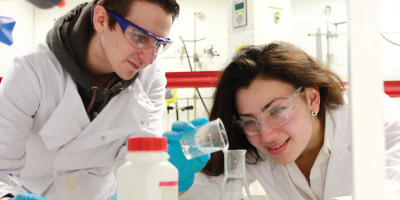 Graduates of the Medicinal Chemistry & Chemical Biology degree will be equipped with the skills to pursue a career in:
Pharmaceuticals
Food technology companies
Cosmetic technology companies
Fine chemical and chemical development
Patenting
Graduates can also pursue a PhD in Ireland or abroad in areas such as chemistry, chemical biology or medicinal chemistry.
Students have spent time studying at the following universities:
University of Lund, Sweden
University of Virginia, USA
McGill University, Canada
University of British Columbia, Canada
University of Colorado at Boulder, USA
Villanova University, USA
"I choose Medicinal Chemistry & Chemical Biology as I really enjoyed both chemistry and biology equally. This subject provides a perfect balance between different aspects of core chemistry principles and their applications within biology. The academic staff and the student at UCD have made the last four years of my life extremely enjoyable. In my penultimate year, I undertook a research Internship at the Institut Laue-Langevin in Grenoble, France. I had the opportunity to gain first-hand experience in phospholipid biochemistry and got the opportunity to travel around Europe at the same time! After I graduate, I hope to enter the area of Drug Development and Clinical trials either via a Graduate Programme or through master programmes."
Thomas, Sheridan, Student