UCD Champions Opening Doors Alumni Fund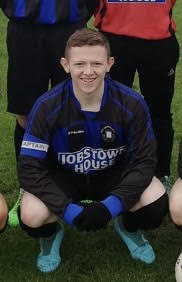 With the ongoing pandemic, many UCD students are facing a financial crisis that could not be foreseen. Countless students have lost the part-time work that allows them to pay for rent, food, transport and equipment. Summer jobs they rely on were cancelled. Jack Keatinge (pictured) explains the impact a UCD Alumni funded scholarship has had on his time in UCD.
"I am in the second year of my BA studying English and Maths in UCD. Throughout secondary school I always had the aspiration to come to UCD and get a degree, and college was a part of life I was always looking forward to. When I got my leaving cert results, I was the only one in my school who was going to UCD and while I was delighted, the prospect of starting by myself was a daunting one. The cost of attending university put huge financial strain on myself and coming from a single parent household it meant a lot of stress for my dad trying to support me. Thanks to my scholarship I was able to support myself and pay for things like my transport to and from college and a laptop for my coursework. The scholarship allowed me to focus on my studies and provided the security and peace of mind that I would be able to afford to attend university and not have to rely on my dad for everything.
Thanks to my scholarship I am on the same level as everyone else in my course. Scholarships provide a huge confidence boost to students and gives them the security of knowing that if one thing goes wrong, they won't have to drop out of college."
By supporting a student today, you will help them in the coming months and beyond, allowing them to pursue their dreams, fulfil their potential and go on to positively influence society for all. Below are some examples of how your support can help a student today.
€25 per month could help pay for essential college equipment for a student in need

€50 per month could help pay for transport to and from UCD

€100 per month could part-fund an entire scholarship

Or a one-off tax-efficient gift of €250 today could help a student towards paying their monthly rent
All funds raised go towards supporting our scholarship students, if our scholarship goal is reached remaining funds will be invested into mental health support on campus, which is much needed. 100% of your donation will go where needed, with none spent on administration costs.