Course Finder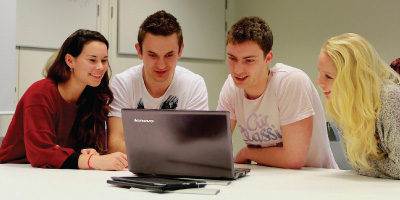 This long-established three-year, flexible degree gives students access to UCD's unrivalled range of 25 subjects.
This course is ideal for students who want to create their own bespoke degree and combine a wide range of different subjects,
Students applying to the programme choose two subjects. See course combination grid below for all available subject combinations and consult the individual subject pages for more information.
⇒ Click To Explore The Course Combination Grid
You can add a third subject or choose from a wide range of elective modules at the start of Year 1 during registration. At the end of Year 1, you commit to your two Joint Honours subjects and study these subjects to BA degree level.
Popular combinations include:
Film Studies and French,
Music and Irish,
Art History and History,
History and Greek & Roman Civilisation.
Students on the BA Joint Honours can choose to spend a full year abroad in Year 3 at one of our partner institutions around the world, making it a 4-year degree. If you choose this option, you will graduate with a BA International.
For more information regarding this course, please click
College of Arts and Humanities Adm
How do I apply?
The following entry route(s) are available:
Description
ENTRY
Duration
Application Opening Date
APPURL
BA Arts(BAU5)
Entry in
Sep 2023

Full Time - 3 Year(s)
Apply From -
Oct 2022

Apply
The Arts and Humanities undergraduate programmes are designed to help students settle into life in UCD as quickly as possible. Comprehensive advisory sessions are held at the beginning of your first year, where lecturers and advisers will help you choose the best modules for you.
During Orientation Week, our Peer Mentoring programme sees all first year Arts and Humanities students linked with relevant second or third year Arts and Humanities students. Peer Mentors will help you to get to know the ropes around UCD and answer all your questions. They offer great advice and will support as you start your college life.
Experienced lecturers and tutors work across every subject in the BA programme to bring you world-class learning in a dynamic environment. Along with our dedicated Programme Office and other support staff, they will also provide assistance throughout the year for any student who seeks advice on their pathway through UCD Arts and Humanities.–
No Modules to display for this Course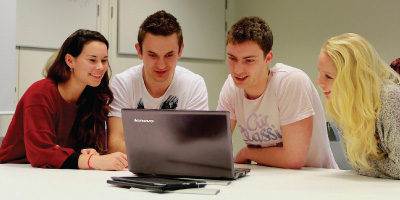 Our students gain in-depth subject knowledge in their chosen areas. In addition, they acquire a wealth of transferable skills that are highly valued by employers, including: research, critical thinking, analysis, synthesis, creativity, communication and writing. We offer students the opportunity to develop their career ambitions through a range of focused employability modules, alumni mentoring, career events and other initiatives.
UCD is ranked number one for graduate employability in Ireland. We are committed to helping our students navigate the rapidly evolving job market and empowering them to find their future. Our graduates play a vital role in intellectual, cultural and business life in Ireland, and work in senior roles across a broad spectrum of industries including: journalism, culture, public sector, law, communications and innovation.
The quality of the BA degree is recognised by employers who want well-educated and versatile employees. The flexibility it provides allows graduates to enter a host of professions including , journalism, politics, human resources management, public service, teaching, non-profit sector roles, tourism, arts and creative industries, advertising, public relations, banking and business to name a few.