Course Finder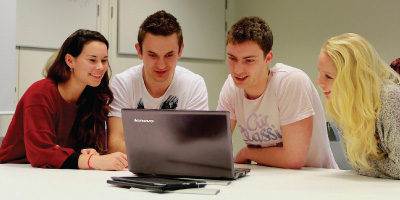 Writer, editor, literary agents and critics, content creator, copywriters, broadcaster/journalist, public relations, business, law, politics, teaching, management consultancy, humanities research and many others.
UCD English, Drama and Film offer a wide range of postgraduate courses, including the MA and MFA in Creative Writing.
See www.ucd.ie/englishdramafilm/study/ for more details.
Students can study in various EU and non-EU destinations through the Erasmus and Study Abroad programmes, in partnership arrangements between UCD and universities across the world.
"Studying English with Creative Writing has allowed me to take something I love and incorporate it directly into my degree. The hardest part about writing is often finding the time to do it. The English with Creative Writing course allows me to focus entirely on something I am passionate about. The School of English, Drama and Film offers an impressive range of English modules is unparalleled and gives me the freedom to explore English and Creative Writing in great depth. This year, I was able to do an internship with the National University of Ireland. It was a fantastic practical experience, editing documents for publication and transcribing lectures from politicians."
Djamel White, Student