Course Finder
Zoology is often thought of in terms of treks into the wild to study rare and endangered species. However, this is only one facet of this fascinating subject. Modern zoology deals with all aspects of animals, from genetics and cell biology to ecology and animal behaviour. The Zoology degree at UCD provides modules in a wide range of disciplines, including marine, terrestrial and freshwater biology, evolutionary biology, animal behaviour, palaeontology, ecology, pest control, population genetics, developmental biology, and animal physiology and cell biology.
Download the UCD Science Undergraduate Courses Entry 2023 Brochure (pdf)
For more information regarding this course, please click
School of Biology and Environmental Science
This is a sample pathway for a degree in zoology. Topics include animal behaviour, animal development, systems ecology and cell biology.
First Year
Biology • Chemistry • Mathematics • Optional Science modules • Elective module
Second Year
Zoology • + 2 other Science subjects • Elective modules
Third Year
Zoology • Elective modules
Fourth Year
Zoology (includes a research project where students work alongside researchers in areas as diverse as animal genetics, evolution, freshwater biology or conservation and biodiversity).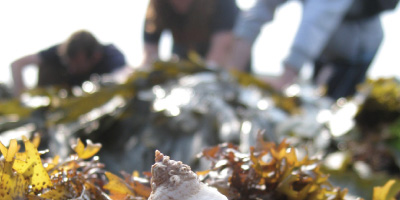 Due to the nature and breadth of the subject, Zoology graduates are employed in most of the industries and state organisations that employ biologists. These include the National Parks and Wildlife Services, National Museum, Marine Institute, semi-state bodies such as the Environmental Protection Agency, ESB, Bord Iascaigh Mhara and Inland Fisheries Ireland, conservation bodies, aquaculture, universities, secondary schools, environmental consultancies, and several areas of biotechnology.
Graduate opportunities are also available for students to pursue MSc or PhD programmes. Taught MSc programmes that can be pursued by Zoology graduates at UCD include Applied Science (Environmental Science), Environmental Sustainability (Online) and Global Change; Ecosystem Science and Policy.
"Having a Zoology degree really allowed me to access a range of different job opportunities both in Ireland and abroad. I undertook a yearlong position as a field assistant with the Kalahari Meerkat Project in South Africa. There I continued long term research on a population of wild meerkats studying their life history, behaviour, and other aspects of their lives. I have recently started a position as a zookeeper back home in Ireland. In this position I work directly with birds of prey including many species considered threatened on the IUCN red list. My degree has been invaluable in obtaining these positions. The information I learned and the experiences I gained during my degree served me greatly, particularly the field trips undertaken as part of my degree."
Síomha Campbell, Graduate