Course Finder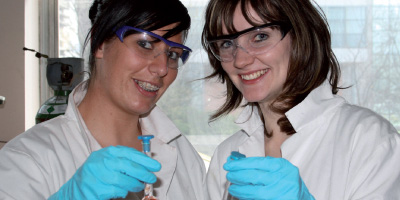 Apart from the disciplines that are available to graduates with a BSc in Chemistry, graduates in Chemistry with Environmental & Sustainable Chemistry will be particularly suited to employment in the environmental and emerging energy industries, including:
Commercial environmental analysis
Alternative energy industry
Environmental Protection Agency
ESB
Bord Gáis
Graduates can also pursue a range of MSc or PhD opportunities in Ireland or abroad.
Students have spent time studying at the following universities:
University of Lund, Sweden
University of Virginia, USA
McGill University, Canada
"This degree is very applicable in industry as legislation is being introduced that holds industries accountable for the waste they produce. This degree investigates how Chemistry can be used to tackle issues such as global warming, acid rain, water pollution and ozone layer depletion. During my final year, I had the opportunity to carry out research with Dr Tony Keene's research group. This allowed me to hone the techniques I learned in the lab throughout my first three years, as well as giving me a flavour of what postgraduate research involves. After graduating, I moved to London to complete a Research Masters in Green Chemistry and Sustainability at Imperial College London."
Eimear Madden, Graduate