International Women's Day In Conversation with Grainne Healy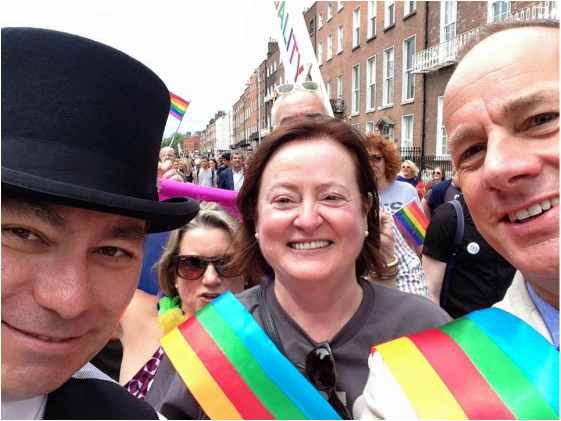 Wednesday, 08 March 2017 -
UCD Alumni Relations, UCD Equality, Diversity and Inclusion Group and the UCD College of Social Sciences and Law would like to invite you to join us for a breakfast event to mark International Women's Day on Wednesday 8th March 'A conversation with Dr Gráinne Healy'.

We are delighted and honoured to have Gráinne join us on campus for IWD. Gráinne is a leader in gender equality and social justice. She is a campaigns expert, a researcher and a published author. The conversation will cover Gráinne's leadership journey over the past 40 years in social activism and, more recently, her leadership of the Yes Equality Campaign.

Associate Professor and Deputy Head of School in the UCD School of Geography Niamh Moore Cherry, will conduct the interview.

International Women's Day 8th of March 2017
The Fitzgerald Chamber, UCD Student Centre, Belfield

7.45am - Registration Student Centre
8.00am - Welcome from Prof. Colin Scott, Vice President for Equality, Diversity and Inclusion, UCD and Principal, UCD College of Social Sciences and Law
8.05am - 'A conversation with Dr Gráinne Healy led by Associate Professor and Deputy Head of School in the UCD School of Geography Niamh Moore Cherry'
8.45am - Questions - open to the floor
9.00am - Tea, Coffee and Pastries served
This event is free to attend but spaces are limited, be sure to book your place

Biographical Notes:
Dr. Gráinne Healy
Dr Grainne Healy has been chairwoman of Marriage Equality, Ireland, since 2004 – the initiative which sought equal access to civil marriage for gay and lesbian couples. She was also Co-Director of Yes Equality, the campaign which led and won the marriage equality referendum campaign in Ireland in May 2015. She is the co-author of 'Ireland Says Yes – How the referendum was won' (Healy, Sheehan, Whelan 2016).
Yes Equality has scooped many awards at home and abroad since May 2015, including the prestigious 'People of the Year Award' for the community organisation of the year in Ireland. Healy, herself has been honoured for her work on marriage equality and Yes Equality in 2013 by Dublin City University, by Irish Gay and Lesbian Awards in 2014 as 'Volunteer of the Year' and as a Tatler Woman of the Year award in November 2015.
Grainne was Chairwoman of the European Women's Lobby's Observatory on Violence against women from 1997-2009. She is a former Chairwoman of the National Women's Council of Ireland (1999-2003) and a feminist activist who has worked on feminist and social justice-change and human rights issues since the early 1980's.
Former Chairwoman of the National Domestic Violence Intervention Agency (NDVIA) and Member of the Board of the Equality Authority of Ireland and the Women's Health Council of Ireland, Grainne worked specifically on the issue of sex trafficking and prostitution with the 'Dignity Project' which sought to deliver inter-agency services for victims of sex trafficking. She was involved in the initiation of the Immigrant Council of Ireland's 'Turn off the Red Light' campaign which has worked to see the introduction of criminalisation of purchasers of sex and was a member of the Irish Observatory on Violence against Women. She is co-author with Monica O'Connor of 'The Links between Prostitution and Sex Trafficking: A Briefing Handbook (EWL 2006)'.
A former secondary school teacher and journalist, Grainne was editor of the women's publishing house Attic Press in the early 1990's and taught Women's Studies in the community with Women's Education Resource and Research Centre at UCD. She has worked for many years with lone parent representative groups and local development organisations and has conducted research, developed strategic plans and successfully attracted.

Associate Professor Niamh Moore Cherry
Niamh is an urban political geographer with a specific focus on regeneration policy, processes and impacts. She has focused on the role of state-led vis-a-vis more grassroots interventions in shaping particular spaces of the city both in Dublin and London. Her current work is focusing on urban governance issues associated with the Ireland 2040 National Planning Framework. Particularly topical and relevant to the housing challenges in Ireland at the moment, some of her most recent research looks at the planning drivers of the recent crisis and responses to vacant urban land in a post-crisis context.

Niamh completed the UCD Aurora programme in 2015, an innovative leadership development training programme aimed at women up to Associate Professor and equivalent professional services level.
---